The South Downs Double home page

Rob started from Winchester late on Tuesday night (at 23:40:00, to be precise), aiming for the first unsupported South Downs Double (out along the South Downs Way to Eastbourne, and back inside 24 hours). Trail conditions are great, the weather's fab too so here's hoping for a good time!

The map below shows Rob's position, as reported from the on-board GPS (the thick red line marks the South Downs Way). The time of the last update is given below the map - it will update every couple of minutes or so. We'll also post updates to this page throughout Rob's ride - see here for the latest news!

Latitude 51.061244 Longitude -1.309086
British National Grid: SU485293
Update time: 20:54:07 Wed 7-May-2008

Use the slider at left to zoom in and out, and you can pan about by clicking on the map and dragging it.

Links added to Rob's own story, here on BikeMagic and here on the IronHorse-Extreme website, also other links updated with some of the press coverage. If you see any articles you think should be added to this list, it would be great if you dropped us a note via the feedback page - thanks!

Wed. 23:51 Pictures from the finish line follow below! Rob looked somewhat tired and trailworn (as you do, after that kind of effort) but even so, when he opened his backpack it was clear he'd carried every last bit of rubbish back with him - way to go, Rob!

And with that, there'll be no more live updates tonight. However, over the next few days, someone's going to get Rob's story out of him and that's going to make for an interesting read, to say the least! (update: and here it is!). We'll keep the Links section updated as the press reports roll in.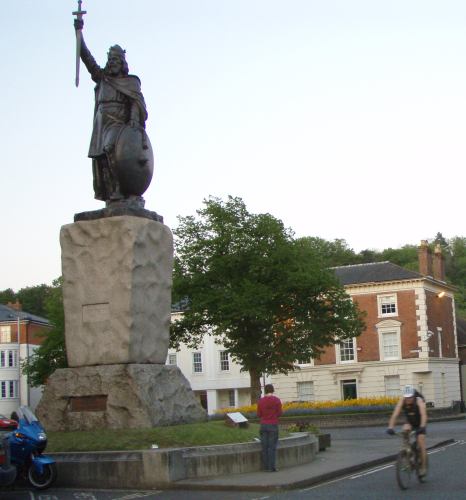 Rob crosses the finish line, still going blurry-fast! Fi (in red) is not ignoring him, just noting the exact time. King Alfred is the dude who counts, of course, and he's saluting.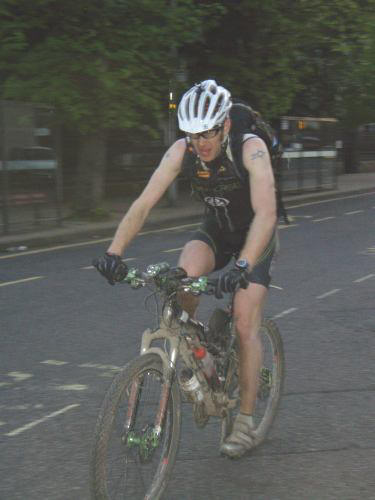 Rob, you can stop now! Rob, can you hear us? Earth calling Rob? Hello?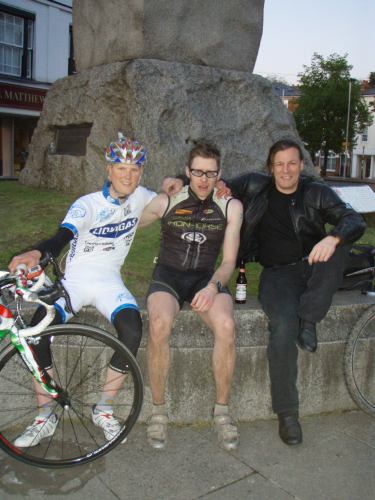 Mike and Neil welcome the new member to the club.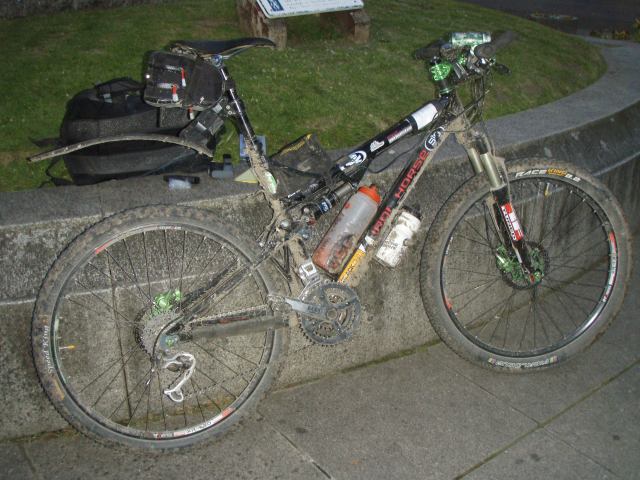 The other star of the show! Looks almost as well-used as Rob.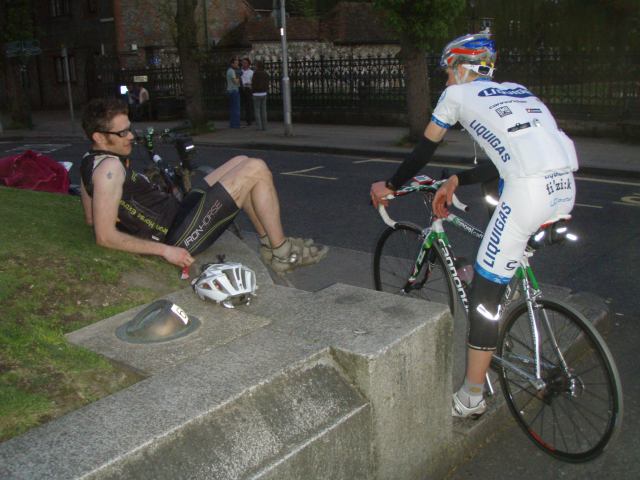 Rob and Mike compare notes, in the way only those who have done it can.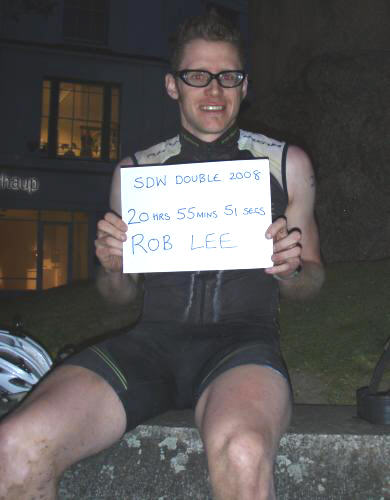 This one says it all.
Wed. 22:28 Rob crossed the finish line at 20:35:51. Given his 23:40:00 start yesterday, we make his time 20h 55m 51s - a new record, with a bullet! Another update later, inc. finish line pics.
Wed. 18:27 He's crossed the A3, and is on the last big climb between him and Winchester! It's a hell of a hill and he's going to be really hurting after 180 miles in (and out!) of the saddle. Currently well inside the previous best time - it's not in the bag yet, but he knows the last 20 miles are relatively mild. We'll report the final result later this evening!
Wed. 16:19 Pics from Chanctonbury Ring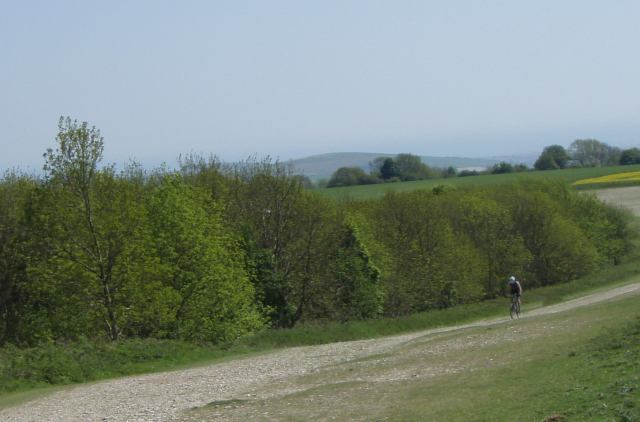 A rider, on a mission to make history!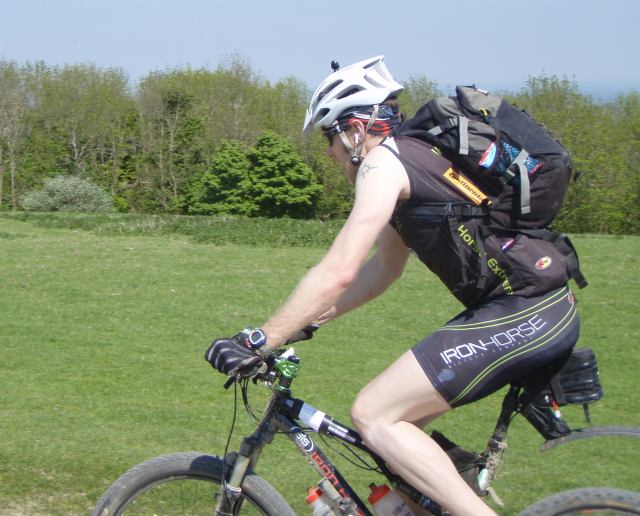 Look at all that gear! 200 miles carrying all that?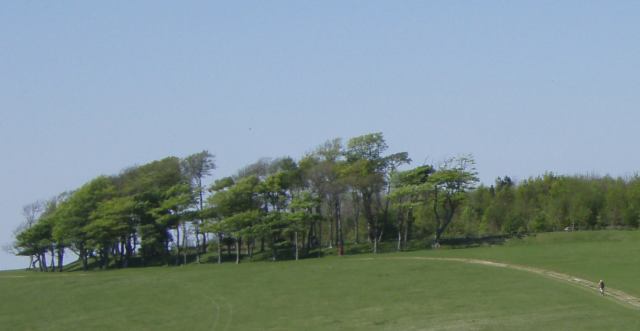 The trees are waiting (and there were 4 buzzards circling overhead, too!).
Wed. 15:32 Watched Rob ride past Chanctonbury Ring, at 14:22 (pics to follow). Looking very strong, and he's now past Amberley. So over 150 miles down, less than 50 to go and 5 hours to sunset!
Wed. 12:05 Couple of *great* pics from Rory (of Exposure Lights fame - Rob uses these).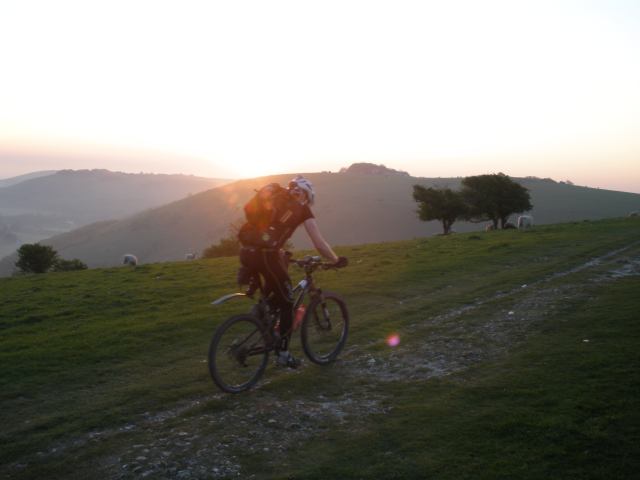 The sun rises to celebrate Rob's arrival at Devils Dyke.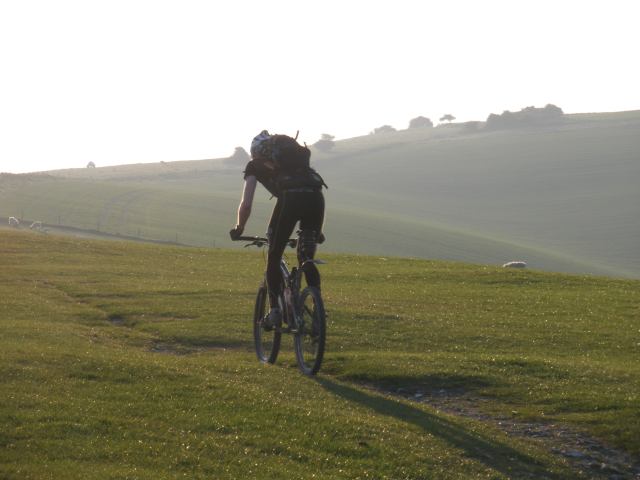 Rob at Ditchling Beacon.
Wed. 11:42 Pics of Rob at the Eastbourne end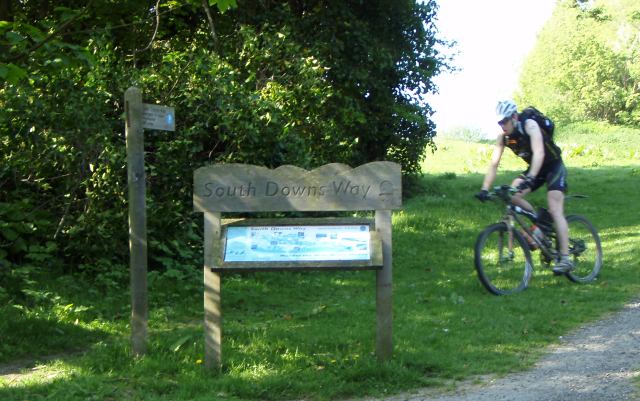 Rob arriving - Hi, Rob!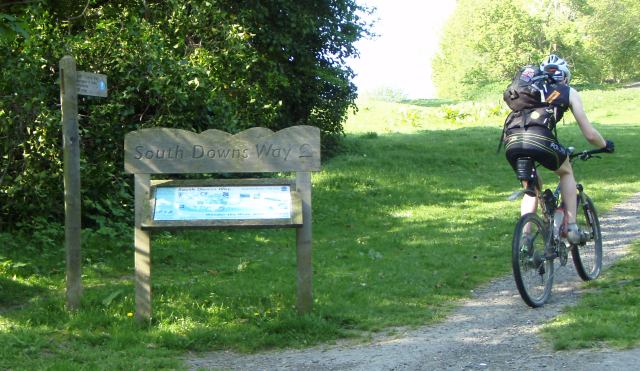 Rob leaving - Bye, Rob!
Wed. 10:40 Rob turned around the signboard in Eastbourne at 09:25 - that makes his one-way time around 9 hours 45 minutes! Not bad, especially as he's been riding into the wind. Now he's going back the other way it's going to be a tailwind, and boy are the downhills going to be fast as a result!
Wed. 05:46 Sunrise at Devil's Dyke this morning: a very fine example of why the South Downs are an Area of Outstanding Natural Beauty! Rory from Exposure Lights was out taking pictures, hope to post them later but in the meantime here's one of Rob as he approaches the Dyke.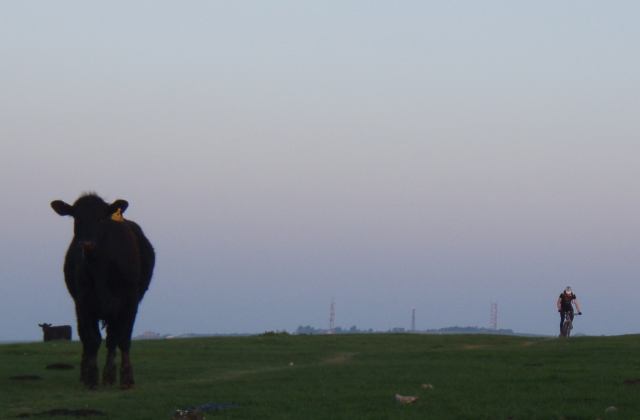 Wed. 04:58 Dawn is breaking now, and that's got to be a welcome sight after 5 hours in the saddle and more than 50 miles in the dark. Bet he's going to have some tales to tell about that night! It's slightly misty, but otherwise clear so the views must be awesome (he's got to be feeling like the only person in the world about now). Just passed Chanctonbury Ring, so more than half-way through his outward journey, and one hell of a pace - could this be the quickest 'Double' ever?
Wednesday 01:33 He just went down Butser Hill! That was great - most of the tracker updates are quite short, but for that one he just disappeared at the top of the hill and popped up at the bottom! Wonder what speed he logged for it?
Tuesday 23:40 Rob rides off into the night. Alone. No support, nothing - just him against the SDW, more than 200 miles and well over 20,000 feet of climbing to go!
Links
Last update: 29th May 2008